Engage New Audiences to Grow your Business Faster!
The Madison Chamber offers a variety of low and no-cost options to help members get the word out about their business. With a plan for every budget, we offer maximum exposure for the best possible value.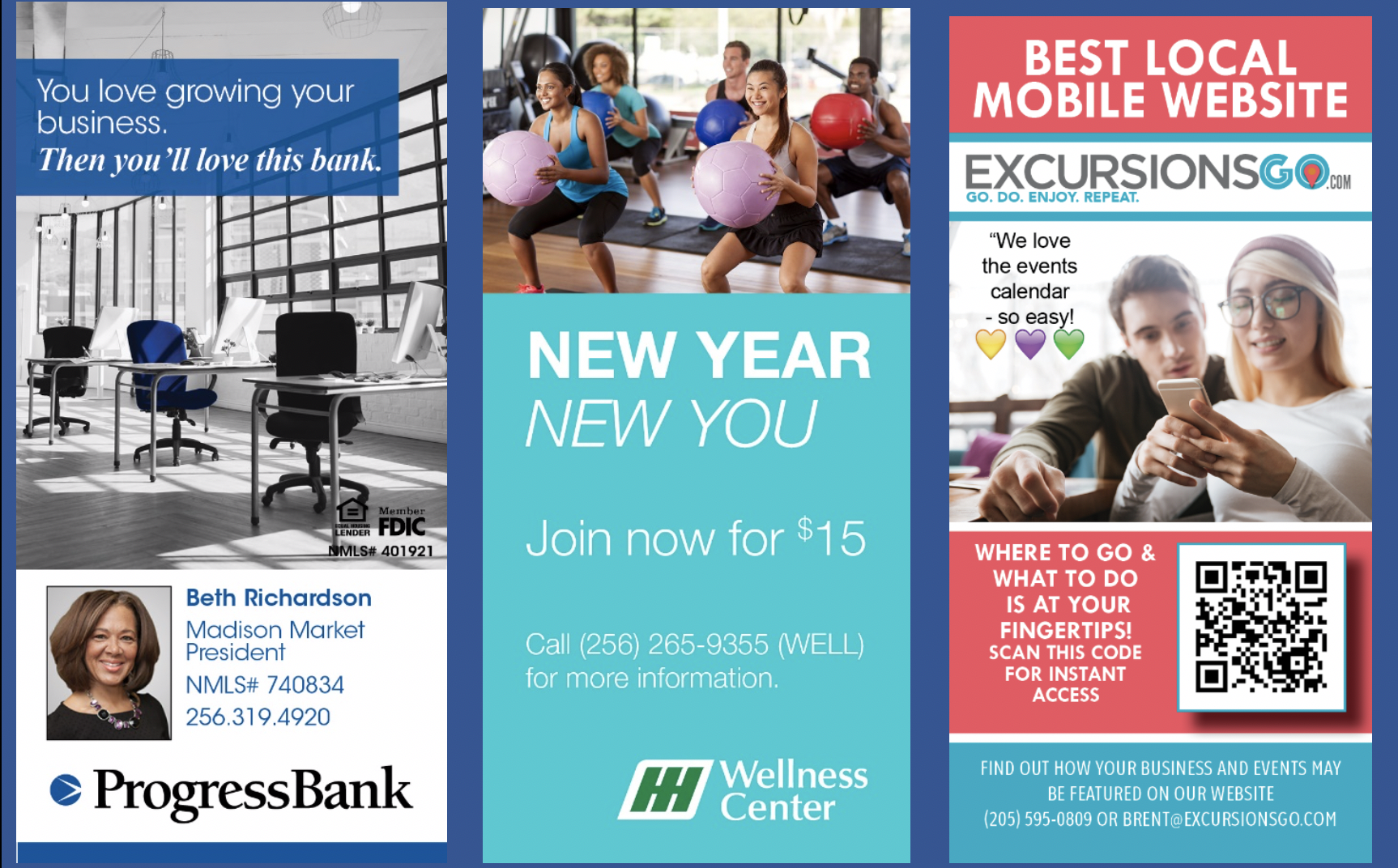 Advertise in the Chamber's Monthly E-Newsletter
Place an ad in our Monthly E-Newsletter, which reaches 3000+ business and community members. Ads include company logo/photo, company description or current special, business address, if desired, and a link to the member's website or Facebook page.
Sign up for 12 months of ad space and customize the messaging each month! Stay top of mind in the community without busting your advertising budget!
Single Month: $25.00
12 Months: $250.00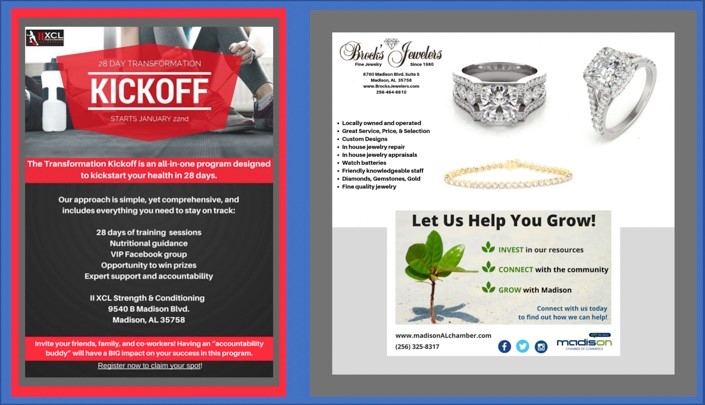 Custom E-blasts to the Chamber's Vast Mailing List
Looking to stand out from the crowd? Send a custom E-blast to our 3000+ member mailing list! Create your own ad or let us create one for you! Purchase a set and spread them throughout the year for targeted exposure.
Single E-Blast: $50.00
Set of 3 E-Blasts: $125.00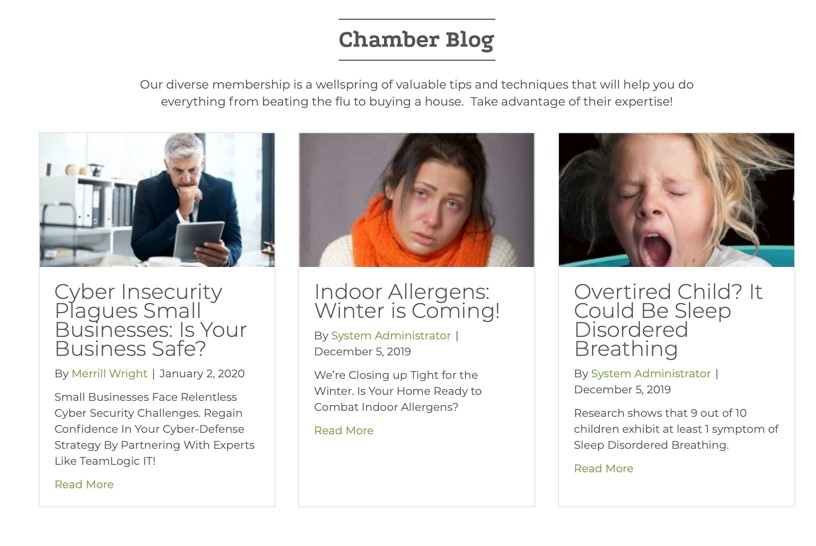 Chamber Blog
Provide a tip for the Chamber Blog to educate business and community members about your product or service! Monthly tip, approximately 250 words, is featured in our monthly e-newsletter, sent out as an e-blast, posted on Facebook and linked to the Chamber website home page to maximize exposure across digital media.
Chamber Blog – No Charge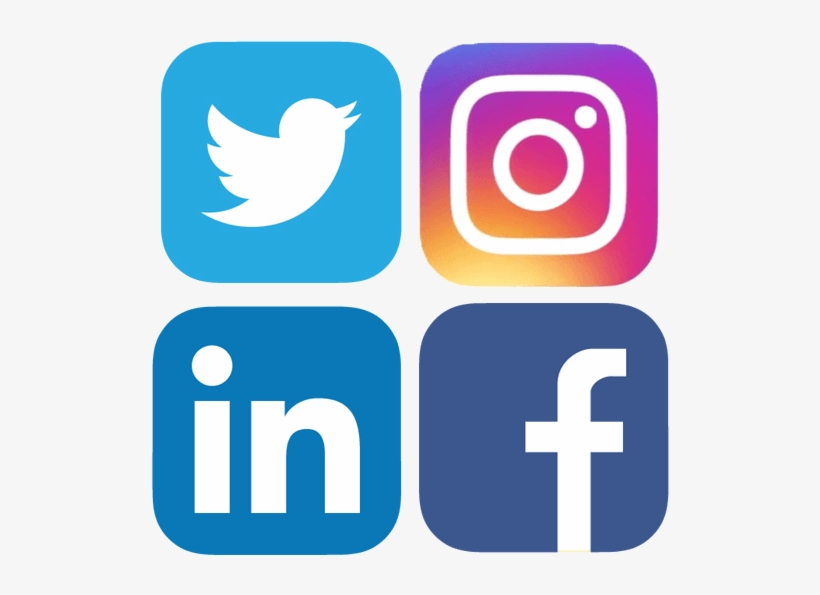 Madison Chamber Social Media Postings 
Need to get the word out about your business? We can help! Just email your content to felecia@madisonalchamber.com and we'll post it to our social media channels and boost your exposure.
Social Media Postings – No Charge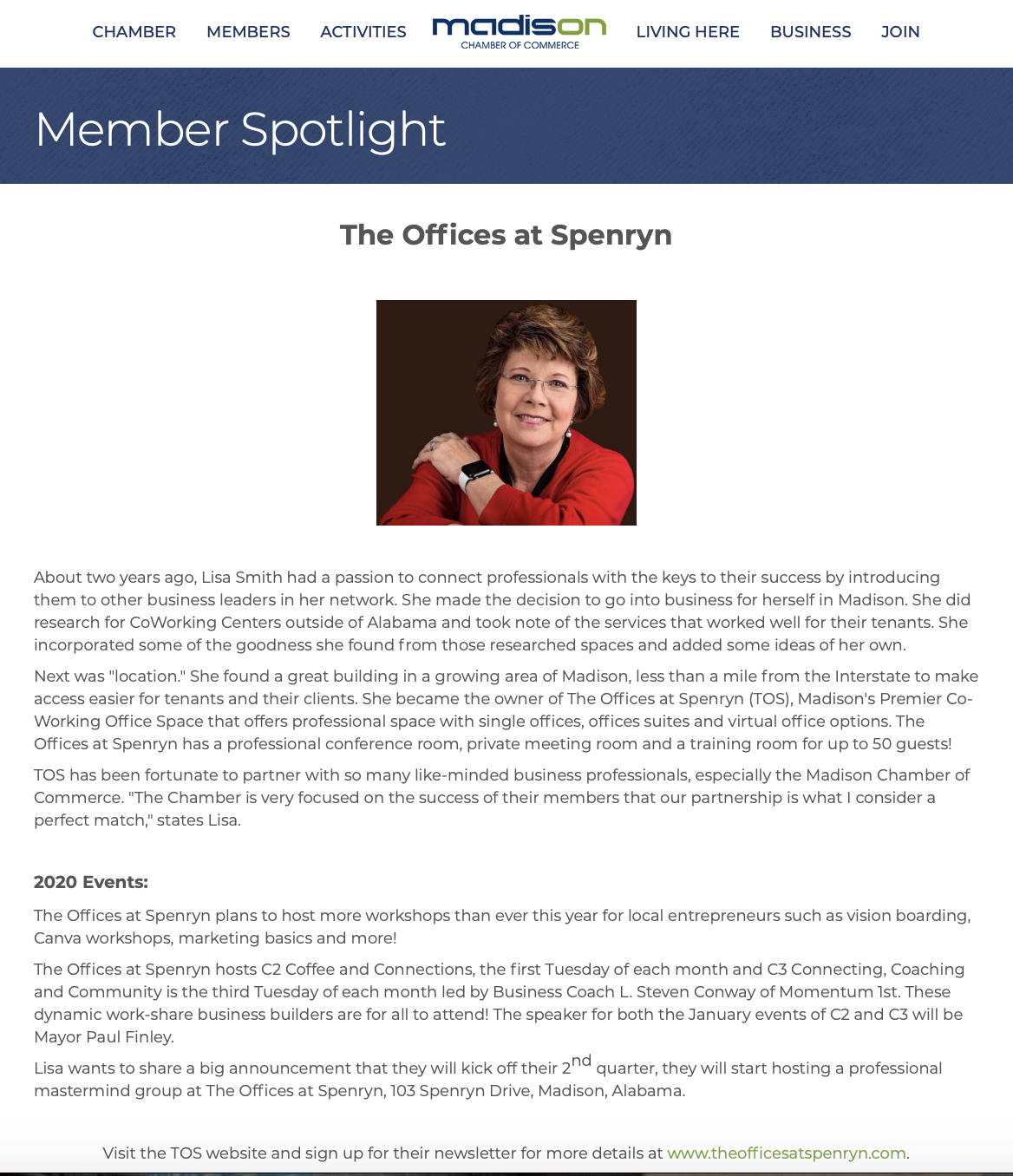 Member Spotlight w/ E-Newsletter and Radio Time
Share your story with the community! Spotlight Businesses enjoy a professionally written 300 – 400 word profile prominently featured in our monthly E-Newsletter.  Additionally, your feature will receive coverage during our Madison on the Move WTKI Radio Show, airing the first Wednesday of each month.
Get your story seen by 3,000+ local business and community members and heard by a local radio audience for one low price!
Member Spotlight Article and Radio Time: $50.00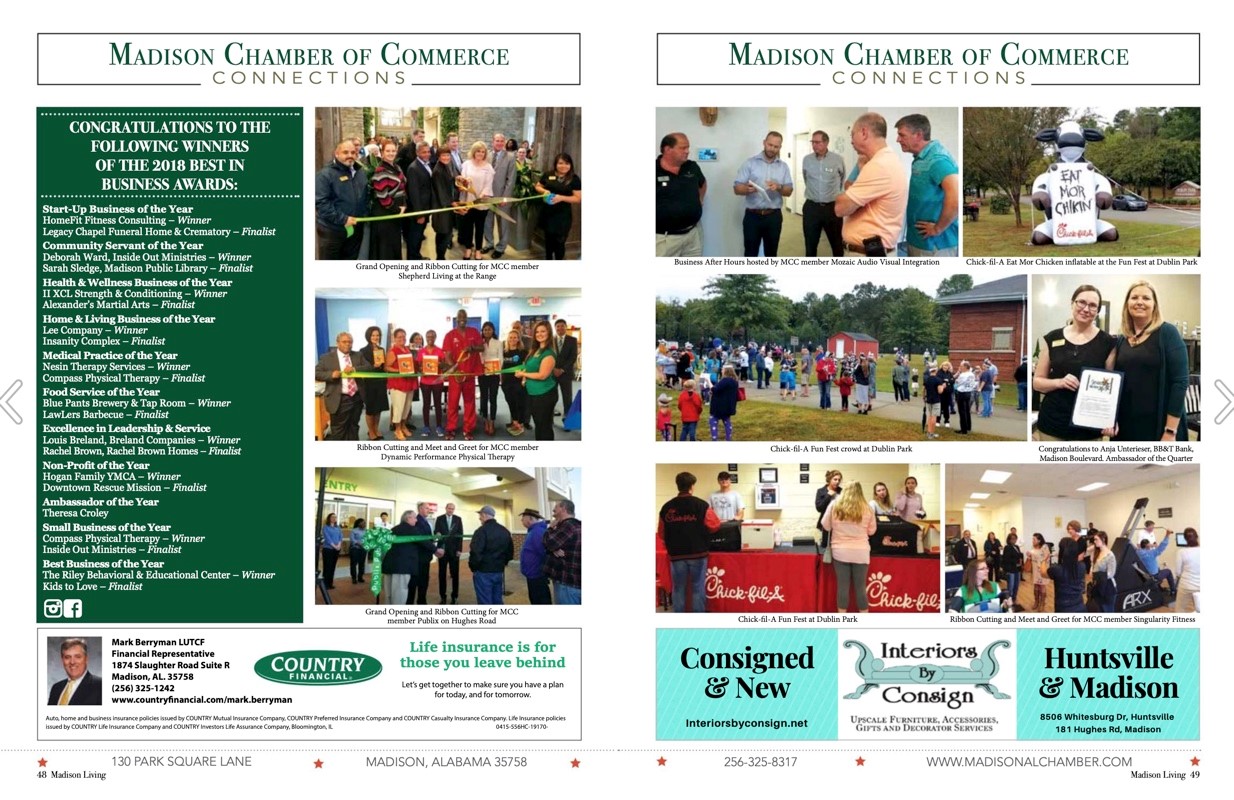 Madison Living Advertising
Banner sizes are 7.25W X 1.5H (bottom of page). 3 months minimum. Contact us to find out which months are still available!
Madison Living Advertisement: $150.00/per month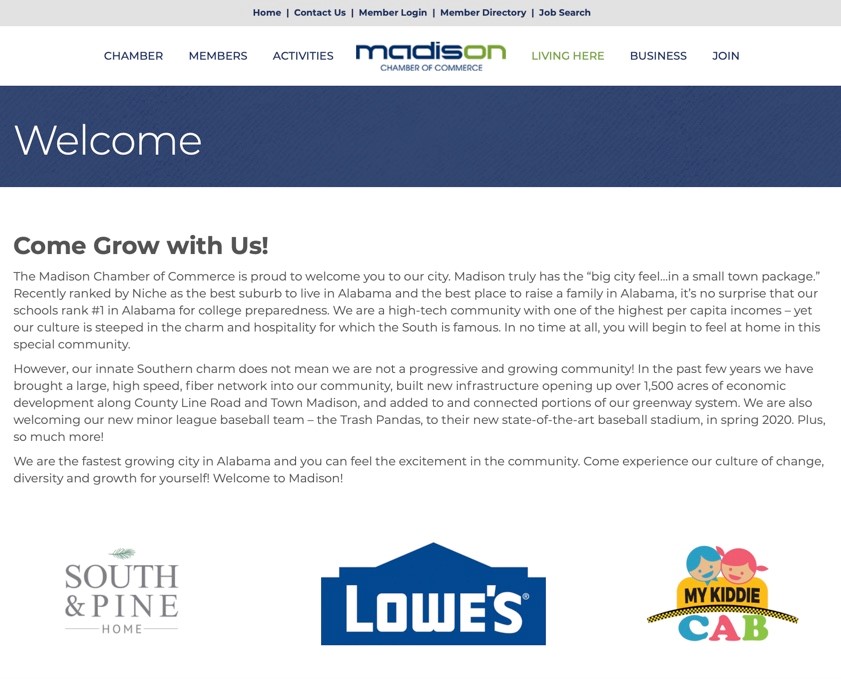 Advertise on the MCC Website
Local businesses, community members and those looking to move to Madison regularly seek out information from the MCC website. Make sure they see your information first! Place a business card sized ad on any of our Life in Madison pages for instant exposure to those most interested in our community.
3 months: $150.00
6 months: $275.00
12 months: $525.00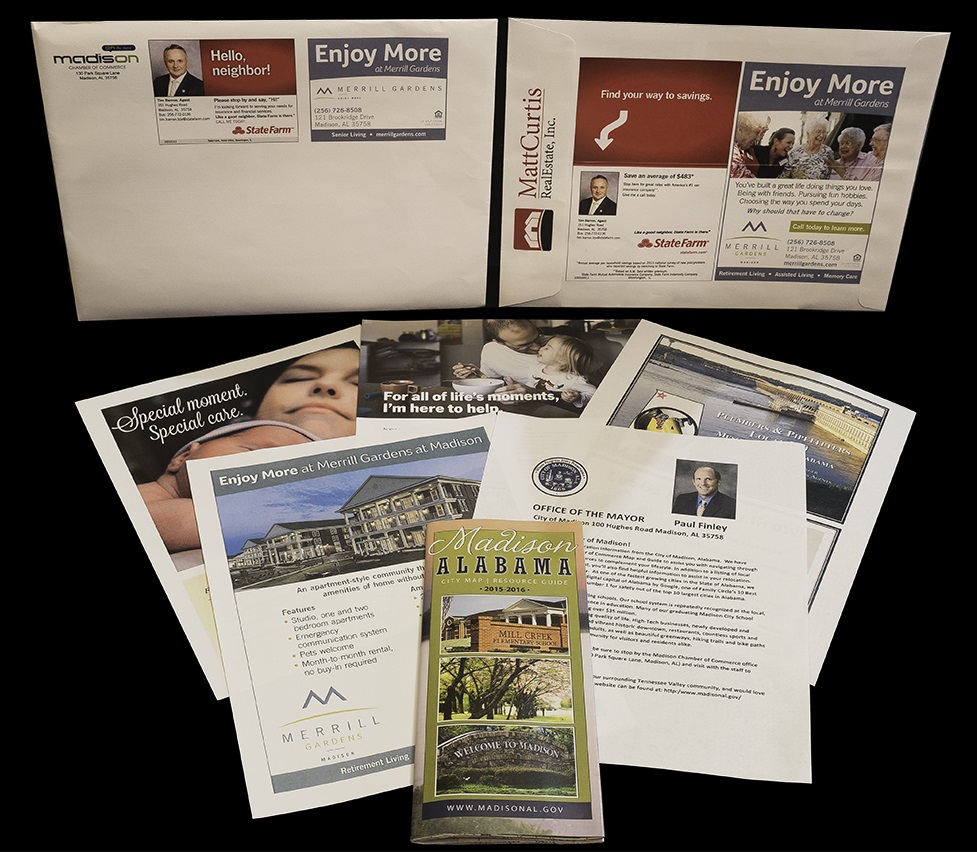 Relocation Packet Advertiser (Madison City Businesses Only)
Advertise in the Madison Chamber's Relocation Packet sent BY REQUEST to those interested in moving to Madison on behalf of the City. Market to Madison newcomers and future residents before anyone else! Packets include a City map, letter from the Mayor, and 'Welcome to Madison' ads from Madison Chamber members. Packets run for 6 months with a variety of options to bring direct advertising to any budget!
DETAILS BELOW
Envelope Advertiser  (2 available per run)
Two full color ads – one each on the front and back of a 9 x 12 envelope –  plus one 8.5 x 11 ad insert of your choice. No competing advertisers are included inside the mailer.
Six Month Envelope Advertiser: $500

Envelope Flap Advertiser (1 available per run)
One full color ad on the flap of a 9 x 12 envelope plus one 8.5 x 11 ad insert of your choice. No competing advertisers are included inside the mailer.
Six Month Envelope Flap Advertiser: $400

Participating Advertiser
Full color ad on a glossy 8.5 x 11 insert placed in the Relocation Packet. The following ad sizes are available:
Business Card: $50
Quarter Page: $100
Half Page: $250
Full Page: $320