Are you opening a new business? Have you or are you relocating your business? Do you have a special anniversary coming up? Are you or have you remodeled your business? Do you have an award to share? Have you won a new contract? Whatever the reason, the Madison Chamber of Commerce looks forward to assisting you with your event celebration!
How To Setup a Ribbon Cutting for Your Company:
Read our ribbon cutting policy and fill out the ribbon cutting request form below. We will be in contact with you shortly to work with you to secure a date.
The Chamber Membership Coordinator (Shari Moore) handles most aspects of a member's grand opening and/or ribbon cutting, to include securing the attendance of elected officials, Chamber Ambassadors, Board Members and Chamber Members.
If you are a Huntsville Business and a member of the Huntsville Chamber, and desire to have a dual ribbon cutting event, the Huntsville Chamber will take the lead with the event activities. However, the Madison Chamber Staff, Ambassadors and members will be in attendance to support your business. We will design an online invitation to send to our membership database inviting them to attend your ribbon cutting event. We will also schedule an event announcement on Facebook to advertise your ribbon cutting event.
Please note that to schedule a ribbon cutting with the chamber you must first be a member. If you have any questions about joining the Madison Chamber of Commerce, please emial shari@madisonalchamber.com.
Remember: This event is focused on the "name of your business." Take this opportunity to show what your business is all about. This is networking at its finest with your company in the spotlight. Getting to know more people will boost your customer base. Make the most of it!
Ribbon Cutting Policy and Request Form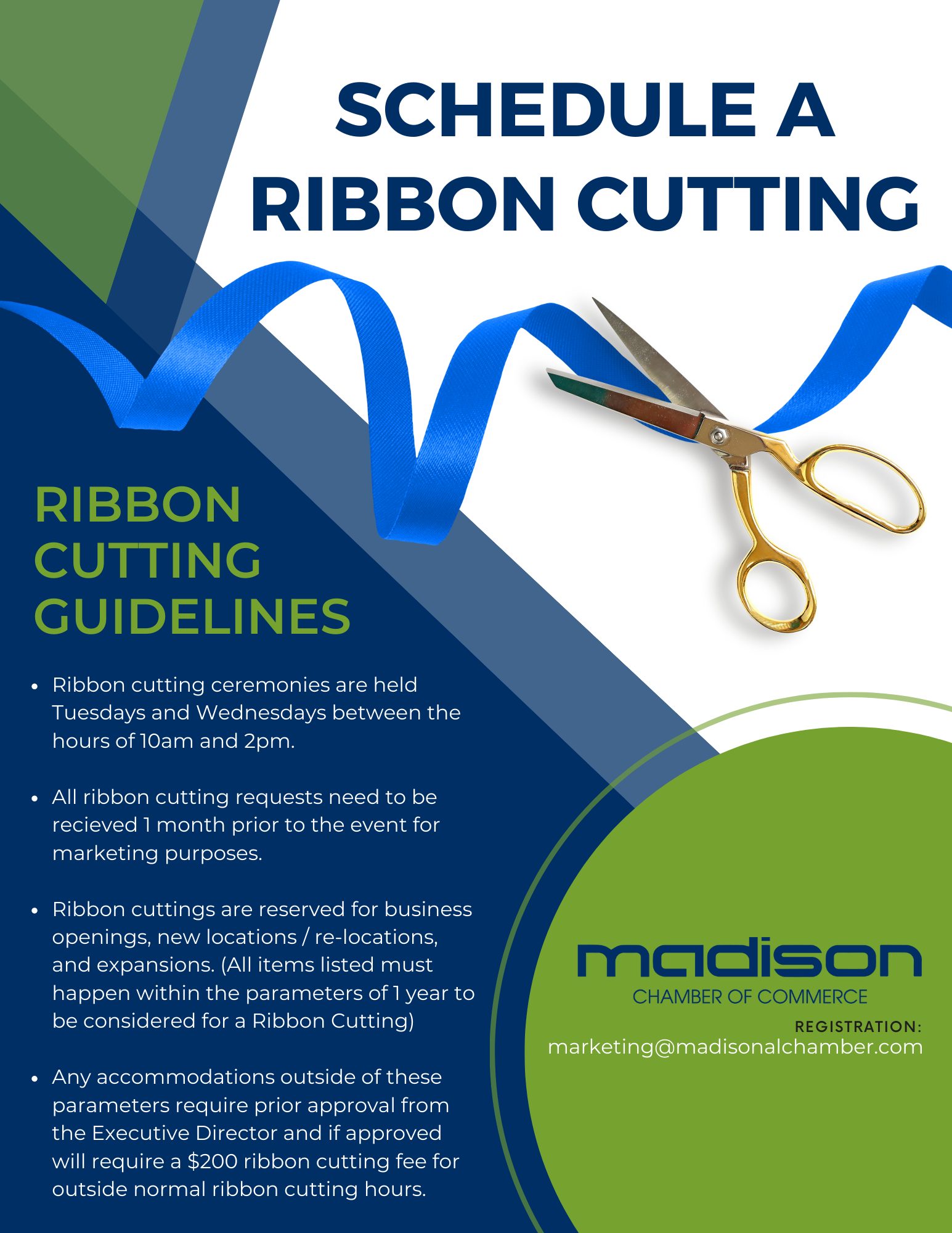 Please carefully read through everything on the ribbon cutting request form and fill it out to the best of your ability so we can better assist you with scheduling your ribbon cutting. We can't wait to celebrate your business with you!