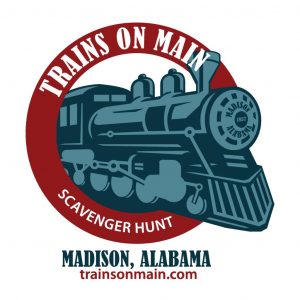 Trains on Main is a permanent, 24/7 outdoor scavenger hunt through downtown Madison created by the Madison Chamber of Commerce in conjunction with the City of Madison and the Huntsville-Madison County Convention & Visitors Bureau. Participants hunt for 8 bronze trains by utilizing clue cards, available from the Madison Chamber and City Hall or via download from this site. Once train spotters find all 8 trains, they bring their completed clue cards to the downtown business owners "Zion Popcorn" or  "Filthy Gorgeous" on Main Street to complete your prize. 
The clues, provided by the Madison Station Historical Preservation Society, educate and inform participants about the colorful history of Historic Downtown Madison as they search for the trains. Families from all over the country have dropped by the Chamber to pick up their prizes and share their experiences.
Come Join the Hunt!
Want some clues? Check out one young train spotter's adventure here!