We make it right.
     We make it happen.
          Relationships matter.
              Always getting better.
These are values ingrained in team Conditioned Air Solutions.  Employees who don't embody these values, don't last long at Conditioned Air!
Just about every heating, ventilation or air conditioning system we walk up to has issues—problems with the equipment, the duct system or the way it was designed or installed. So many things can go wrong with an HVAC system, and it is one of the systems in a home or commercial building that is taken for granted or least maintained because it is out of sight.
Our mission is to make as much of it right as we can. We educate customers about what is going on with the HVAC system and provide as many options for solutions as we can. Once the customer makes a decision, we move into make-it-happen mode!  It's been a tough year to do that sometimes with equipment and materials shortages and limited access to homes and buildings.  Our team of professionals has consistently provided the Madison area with very necessary services.
We take all our corporate relationships seriously—including our community and our vendors! We are the exclusive Madison County dealer of one of the best brands in the HVAC business: Daikin.  Many of our equipment and materials vendors have also gone over and above to help us take care of our customers.
Winning the Madison Chamber Best in Business 2020 Award has been a huge boost for the Conditioned Air Solutions team. The many congratulations we've received from our customers has affirmed that the way we deliver HVAC service, maintenance and installation for homes and businesses is on track and that we are living our value of always getting better.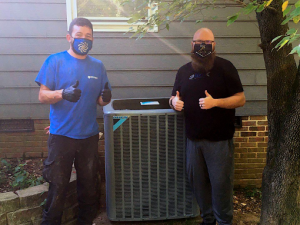 Madison resident, Sean Harrison, gives the happy 
thumbs-up on his new Daikin system along with
his install crew lead, Will Morgan.