Come Grow with Us!
The Madison Chamber of Commerce is proud to welcome you to our city. Madison truly has the "big city feel…in a small town package." Recently ranked by Niche as the best suburb to live in Alabama and the best place to raise a family in Alabama, it's no surprise that our schools rank #1 in Alabama for college preparedness. We are a high-tech community with one of the highest per capita incomes – yet our culture is steeped in the charm and hospitality for which the South is famous. In no time at all, you will begin to feel at home in this special community.
However, our innate Southern charm does not mean we are not a progressive and growing community! In the past few years we have brought a large, high speed, fiber network into our community, built new infrastructure opening up over 1,500 acres of economic development along County Line Road and Town Madison, and added to and connected portions of our greenway system. We are also welcoming our new minor league baseball team – the Trash Pandas, to their new state-of-the-art baseball stadium, in spring 2020. Plus, so much more!
We are the fastest growing city in Alabama and you can feel the excitement in the community. Come experience our culture of change, diversity and growth for yourself! Welcome to Madison!
Madison Quick Facts
Population:
   Estimated 2019: 50,440
Weather Information:
January Avg high/low: 51/32 (F)
July Avg high/low: 91/70 (F)
Avg Precipitation rain/snow: 54″/3″
Airport: Port of Huntsville
The City of Madison is just minutes away from Huntsville International Airport (HSV). Commercial airlines serving Huntsville International Airport (HSV) include: American, Delta, and United, Frontier and Silver Airways.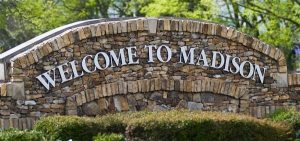 Take a look at just a few of our recent accolades!
#1 Best Place to Raise a Family in Alabama
Niche 2019
#1 Best Place to Raise a Family in Alabama
Stacker 2018
#1 Best Place to Live in Alabama
Niche 2017
#25 100 Most Popular Small Cities to Relocate 2017
moveBuddha 2017
#2 Best Place to Live in Alabama
Niche 2016
Top 30 Safest Cities in Alabama
Safewise.com 2016